Hot Water Tank Installation
Replace that old tank with a new one and improve the reliability and energy savings of a new hot water tank installed.
expert and certified hot water tank installation, your safety and wellbeing come first

Does your hot water tank need replacing?
Many hot water tanks have failed at 10 years of age. If your hot water tank is older than 10 years ( or getting close to it), avoid the risk and get a technician to inspect it for reliability and safety.
Alberta Home Services offers Atmospheric Hot Water Tank installation of the John Wood brand. We offer these water heater products because they are among the leaders in quality.  From raw material delivery to finished product assembly, each phase of the manufacturing process is overseen to ensure the highest quality possible while maintaining a good cost: utility ratio.
Water Heaters are also tested and certified by the government and private testing labs to ensure quality standards are met. If your hot water tank is more than 10 years old, please have it checked.
Hot Water Tank Installation
+GST & $29.95 DISPOSAL OF OLD TANK
40-gallon atmospheric hot water tank
John Woods Brand
Installation and testing of new until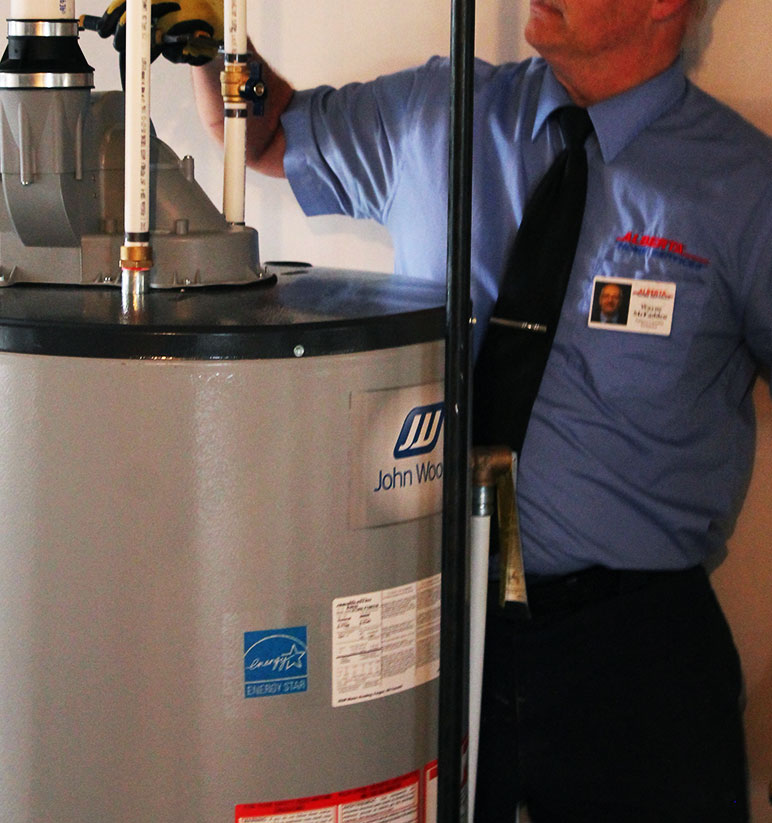 Some restrictions apply. Prices do not include GST. Removal/disposal of the old tank of $29.95, and other related plumbing, or venting replacements are an extra charge.
Atmospheric Hot Water Tanks
In household and commercial usage, most water heaters have traditionally been of the tank type. Also called storage water heaters, these consist of a cylindrical vessel or container in which water is kept continuously hot and ready for use. Typical sizes for household use range from 75 to 400 litres. These may use electricity, natural gas, propane, heating oil, solar, or other energy sources. Natural gas heaters are the most popular since the gas is often conveniently piped throughout cities and towns and currently is the cheapest to use.
Another popular arrangement where higher flow rates are required for limited periods is to heat water in a pressure vessel that can withstand a hydrostatic pressure close to that of the incoming mains supply. These vessels are called hot water tanks and may incorporate an electrical resistance heater, an air source heat pump, or a gas or oil burner that heats water directly.
Compared to tankless heaters, storage water heaters have the advantage of using energy (gas or electricity) at a relatively slow rate, storing the heat for later use.
The disadvantage is that over time, the water inside the tank will cool down causing the heating system to activate to heat the water back up. Additionally, once the tank's supply of hot water has been exhausted, there is a significant delay before hot water is available again. Larger tanks tend to provide hot water with less temperature fluctuation at moderate flow rates.
Hot Water Tank Repair
We also provide repair services to most atmospheric hot water tanks. From leaks to heating issues we got you covered, please inquire with us about how we can best assist you.
FURNACE TUNE UP
28 Point Complete Tuning
FURNACE REPAIR
Expert heating repair services
DRYER VENT CLEANING
Dirty dryer vents are a common fire hazard, get it cleaned!

A lot goes behind the scenes
Alberta Home Services is proud to adhere to good practices, hiring standards, safety, and guaranteed results. All of our technicians are vetted, screened, and trained to provide a  quality service every time. As mentioned, we adhere to strict safety protocols to provide you with peace of mind when hiring Alberta Home Services.
Alberta Home Services has been awarded multiple times as the best furnace and duct cleaning and carpet cleaning services through our daughter companies since 1986. We have the recipient of the Consumer's Choice, Calgary Herald and Sun Reader's Choice, Homestars' Best of Calgary, Top Choice, and many others as well as being the first member of NADCA in Calgary and rated A+ by the BBB since 1986.